THANK YOU SO VERY MUCH for your interest in purchasing a copy of THE STAR IN THE CHRISTMAS PLAY, my latest picture book. It's illustrated by the fabulous Lorna Hussey, who also illustrated by 2nd Book with Scholastic, HEDGEHOG'S 100TH DAY OF SCHOOL.
You can purchase a copy via the following methods:
COST
: $17.00 per Copy, Plus 3.00 Shipping and Handling via Media Mail (Plus $.50 for each
additional
copy). Please DM or e-mail me at
LiterallyLynneMarie@Gmail.com
for pricing for
bulk copies.
Please note that any and all copies will be mailed AFTER the release date of October 16, 2018.
ADD-ONS
: At this time, I am offering the add-on of either or both of my previous books, HEDGEHOG GOES TO KINDERGARTEN (illustrated by Anne Kennedy) and/or HEDGEHOG'S 100TH DAY OF SCHOOL (illustrated by Lorna Hussey) at $7.00 each per book, with no additional shipping charges over the initial shipping charge for TSITCP.
Venmo (No fees) - @Lynne-Marie-1
(Friends and Family Paypal or PayPal PLUS fees ONLY)
C
heck - Lynne Marie Pisano, 4115 Cascada Circle,
Hollywood, FL 33024-8516
*If you do not send via Friends and Family PP I will need invoice you for the balance. PLEASE
pay attention and send via any of the requested methods.
IMPORTANT INFO
: Please include your full name and address, as well as person to whom I should inscribe the book to, along with your payment.
CONFIRMATION
: If I have not already reserved a book for you, feel free to confirm your order before sending/remitting payment.
PLEASE feel free to tell your friends about this book, as well as to place this book on your
Goodreads profile and to review on Amazon.com or any other place you can. I am always happy to receive positive reviews and photographs of your child with my books to post on my blog.
Should you require any further information you may DM me on FB via Lynne Marie, e-mail me at
THANK YOU again for your love and support! It means so much to me! And to my dear illustrator
Feel free to check my website www.LiterallyLynneMarie.com for updates. You can also follow my blog www.literallylynnemarie.blogspot.com or find me on social media:
FACEBOOK: Lynne Marie
https://www.facebook.com/WordsandPictures.by.LynneMarie
BUSINESS FACEBOOK: Children's Author Lynne Marie
https://www.facebook.com/LiterallyLynneMarie/
BOOK FACEBOOK PAGE: The Star in the Christmas Play
https://www.facebook.com/TheStarintheChristmasPlay
BOOK TRAILER: The Star in the Christmas Play
https://www.youtube.com/watch?v=myPjaoU2wSQ
BOOK TRAILER: Hedgehog's 100th Day of School
https://www.youtube.com/watch?v=g0jiQ9nJCEQ&t=6s
P.S. Please keep an eye out for the release of my next two picture books, LET'S EAT! MEALTIMES AROUND THE WORLD (Beaming Books, Fall 2019) and MOLDILOCKS AND THE 3 SCARES (Sterling, Fall 2019).
Yours in Words and Pictures,
LiterallyLynneMarie@Gmail.com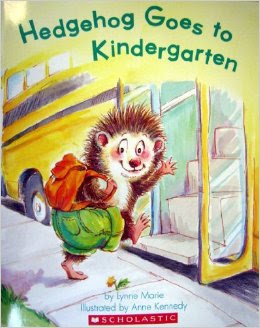 Hedgehog Goes to Kindergarten, Scholastic, 2011
Illustrated by Anne Kennedy
Hedgehog's 100th Day of School, Scholastic, 2017
Illustrated by Lorna Hussey
The Star in the Christmas Play, Beaming Books, 2018
Illustrated by Lorna Hussey
Moldilocks and the 3 Scares, Sterling, 2019
Illustrated by David Rodriguez Lorenzo
Let's Eat! Around the World, Beaming Books, 2019
Illustrated by Parwinder Singh
Children's Author Lynne Marie on FB