Beginning at the beginning, there is the title, the first impression of a story. Yesterday, I introduced the concept of "a title is a promise (as well as a hook). Today we will look at beginnings and what their job is, along with the title.
A beginning could/should do any one or more of these things:
1. Set up the Story.
2. Describe the setting.
3. Introduce the main character.
4. Introduce a situation or problem.
5. Introduce a concept.
6. Set the tone.
7. Establish the rules of the story world.
8. Support the middle. (We won't discuss this here, but it is still a necessary element).
9. Seed any essential elements of the story. (Also essential, but for a later discussion).
10. Introduce a question.
=
Hook the reader.
No matter how you begin your beginning, the most important job is to hook the reader. Today, I'll examine some more random books on my reading list and consider how their titles and beginnings work to hook the reader. The goal is to have three of these enumerated items which effectively hook the reader.
WE ARE BROTHERS, WE ARE FRIENDS
by Alexandra Penfold. Pictures by Eda Kaban
Farrar Straus, Giroux, 2017
We are brothers, we are friends.
I'm just the big brother.
You're just little. But that's okay.
I have lots to show you...
like trains
and planes
and how to be a dinosaur.
This beginning 1. Sets up the story, 3. Introduces the main character(s) , 4. Introduces a situation, 6. Sets the tone, 8. Poses a question (just what does the brother want to show him) and 9. Seeds any essential elements of the story (the relationship between the two brothers, with the narrator as the older brother).
These components work together to hook the reader. By the time you get to sentence four, you likely want to read on and see just what the main character is going to show his little brother! And do you see how the author has woven in even MORE hooks by incorporating trains, planes and dinosaurs! So many hooks. And just because this book utilizes even MORE hooks than that, I am going to mention them: Adventurer, Rock Star, Ninja, Superhero and Cowboy. AND, the story is sweet and promotes kindness and sharing. It will appeal to little ones, AND their parents. Even if I didn't already know that the author is a children's literary agent, I would suspect she knows the business and just what to do to hook the reader and sell books!
I FEEL TEAL by Lauren Rille
Illustrated by Aimee Sicuro
Beach Lane Books/Simon & Schuster, 2018
You're pink.
You're teal.
You're gray.
You're jade.
You're every golden shade.
1. Introduces a main character (through the art). 2. Introduces a concept (describing feelings as being a color). 3. Introduces the tone (poetic).
For me, this particular book felt a little slight in that I really love a well-plotted story, and yet I can see the appeal of this for teachers, professionals and parents who wish to discuss feelings with a child and to help them put them into words.
HEY, HEY, HAY! A Tale of Bales and the Machines that Make Them
by Christy Mihaly
Illustrated by Joe Cepeda
On a cold and wintry day,
I love to break out bales of hay.
The hay smells fresh, like summer sun.
I feed my horses, one by one.
Listen, and I'll tell a tale of storing summer in a bale.
This beginning 1. Sets up the Story 2. Describes the setting (a hay farm) 3. Introduces the Main Character 4. Introduces a situation (hay baling) 6. Sets the tone (poetic / tale)
For a picture book that's basically a non-fiction-based story about baling hay, I thought that the author utilized several devices (and additional hooks - horses, promise of a tale) in an effort to hook the reader.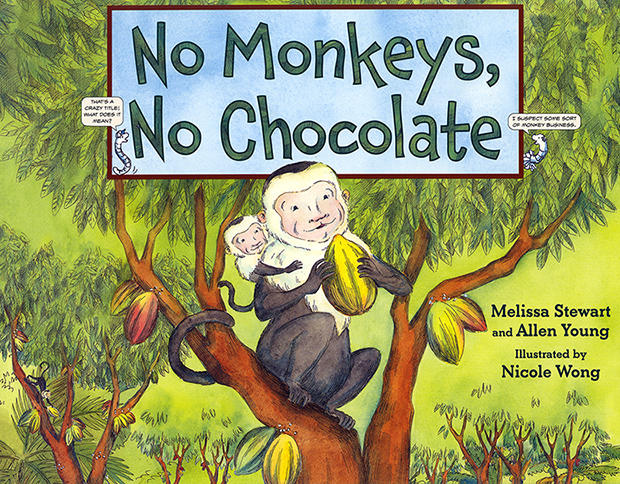 NO MONKEYS, NO CHOCOLATE
by Melissa Stewart and Allen Young
Illustrated by Nicole Wong
Charlesbridge, 2013
Chocolate chip cookies.
Chocolate ice cream.
Moist, fudgy brownies.
What makes these desserts so delicious? Chocolate, of course.
But you can't make chocolate without...
cocoa beans.
I am have to come across these last two non-fiction based selections, because it is clear that the author have come up with clever and engaging techniques and utilized a nice variety of elements to hook the reader. This book utilizes the following: 4. Introduce a situation (the inability to make chocolate without cocoa beans). 5. Introduce a concept (without monkeys, we would not have chocolate). 6. Set the tone (informative). 10. Introduces a question. PLUS there are two hooks just in the title alone. Monkeys AND Chocolate.
!MUU, MOO!
Rimas de animales. Animal Nursery Rhymes.
Selected by Alma Flor Ada and F. Isabel Campoy
English versions by Rosalma Zubizarreta
Illustrated by Vivi Escriva
Rayo/HarperCollins, 2010
This bilingual book markets to spanish and english speakers, spanish speakers learning english, english speakers learning spanish AND bilingual readers. The title is direct in its target group, promising something for many groups of readers! Rather than a story beginning, this book has a introduction made for parents and teachers. It addresses up the need for Latino children to learn rhymes from their native language and for English-speaking children to enjoy them as well. Give this is a book of poems, the beginning effectively 1. Sets up the "story," 2. Introduces the concept of Latino folklore and 3. Sets the tone. These work to hook the reader.
As you read your pile of picture books (and if you don't have one and are a picture book writer, you should), consider the elements that hook the reader. You will soon become familiar with effective methods and then can evaluate your own manuscripts and supplement the hooks accordingly. Of course, you will have to be able to successfully weave them in so that they feel natural. As a general rule, shoot for your story beginning to have at least 2/3 strong hooks. This is so important, as it may not only hook a reader, but an Agent or Editor!
*.*.*.*
PLEASE follow this blog so you don't miss any tidbit of information and please feel free to leave any comment or question you may have. I will do my bes to answer all!
Lynne Marie is

the

author of Hedgehog Goes to Kindergarten - illustrated by Anne Kennedy (Scholastic, 2011), Hedgehog's 100th Day of School – illustrated by Lorna Hussey (Scholastic, January 2017), The Star of the Christmas Play -- illustrated by Lorna Hussey (Beaming Books, 2018), Moldilocks and the 3 Scares -- illustrated by David Rodriguez Lorenzo (Sterling, pending) and Let's Eat Around the World -- illustrated by Parwinder Singh (Beaming Books, 2019).
You can learn more about her at
www.LiterallyLynneMarie.com
.
To order the
Star in the Christmas Play
, click the title.