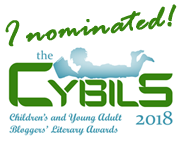 Have you made your 2018 Cybils Award nominations? If no, n
ominate YOUR favorite books now, before time runs out!
https://database.cybils.com/nominate.php
HOW TO DECIDE:
Nominations should be considered by
two primary criteria.
1. All books should be judged against are literary merit
2. Kid (or teen) appeal.
They are looking
for "books that bridge the gap between those two: good, well-written books that kids will love!"
For finalists, individual panels will set their own criteria, as "d
ifferent genres may have specific requirements, such as world building for science fiction, or factual accuracy for non-fiction."
Let's take a L@@K at a few of the books on my TBR pile (just going taking off the top of the pile randomly) and see what happens when we look at them through these qualifiers.
NO FROGS IN SCHOOL
Written by A. LaFaye
Illustrated by Eglantine Ceulemans
Sterling Children's Books, 2018
JACKET FLAP COPY:
Bartholomew Botts loves pets and doesn't want to go to school without one.
Unfortunately, when Bartholomew brings his new frog to class, his teacher, Mr. Patanoose, declares, "No frogs in school!"
So what happens when Bartholomew's beloved hoppy, hair and scaly creatures meet up with Mr. Patanoose's rules?
[From the Publisher]
MY THOUGHTS: Definitely an engaging, well-written story, with lots of fun illustrations and a clever solution! So much appeal here, too! Just start with the title
No Frogs in School
, you know there are going to be frogs in school, and can't wait to read and see what happens!
WRITE ON, IRVING BERLIN
Written by Leslie Kimmelman
Illustrated by David C. Gardner
Sleeping Bear Press, 2018
JACKET FLAP COPY:
Escaping persecution for being Jewish, the Baline family flee Russia and arrive by ship in New York Harbor in September 1893. Little Israel Isidore Baline is only five years old. After arriving at Ellis Island, the first stop for all immigrants, Israel and his family are ready to begin a new life in America.
His family settles on the Lower East Side and soon Israel (now nicknamed Izzy) starts school. And while he learns English, he is not a very good student. According to his teachers, he daydreams and sings in class. But while these may not be traits that are helpful in the classroom, they are wonderful tools for a budding singer and composer. At by the time Izzy (now knows as Irving) is a young man, he is well on his way to becoming one of the most well-known composers in America.
This vivid picture book biography examines the life of Irving Berlin, the distinguished artist whose songs, including "God Bless America" and "White Christmas" continued to be popular today.
[From the publisher.]
MY THOUGHTS: This book is standout. It is inspiring and paints a picture of the life of Irving Berlin in an amount of words and manner of words that is definitely understandable and accessible by children. And the illustrations are simply wonderful! Definitely worthy of a nomination, and maybe even, of a win!
PRETTY KITTY by Karen Beaumont
Illustrated by Stephanie Laberis
Henry Holt and Company/Godwin Books, 2018
SUMMARY:
Old man.
Big city.
Pretty kitty.
In this charming counting book, a lonely old man discovers a kitty near his front step. But he does not want a kitty cat -- SCAT! As the number of kitties grows, will the man find room in his heart -- and home -- for his new feline friends.
[From the Publisher.]
MY THOUGHTS: This is definitely fun with clever, engaging rhyme and added value of being a concept book that teaches counting. The story/rhyme and the illustrations are top-notch and definitely have lots of kid appeal. A great example of a concept book WITH a narrative arc.
MIXED: A Colorful Story by Arree Chung
Henry Hold and Company, 2018
SUMMARY: In the beginning, there were three colors...Reds, Yellows and Blues. All living in their own
ways, all living in harmony -- until one day, a Red says, "Reds are best!" and starts a color kerfuffle. When the colors decide to separate, is there anything that can change their minds? A Yellow, a Blue and a never-before-seen color might just save the day in this inspiring book about color, tolerance and embracing differences.
[From the Publisher.]
MY THOUGHTS: This is ABSOLUTELY brilliant and clever. So much packed in here for both children, and adults! Very high on the literary merit scale. Despite all these books being excellent, this one would get my nomination from this bunch, as well as over all the other books that I have read this year!
EXERCISE: Please take notice of the summaries and exactly what the publisher said, and didn't say in them. You can use them as mentor examples to craft your own.
*.*.*.*.*
Feel free to check my website www.LiterallyLynneMarie.com for updates. You can also follow my blog www.literallylynnemarie.blogspot.com or find me on social media:
FACEBOOK: Lynne Marie
https://www.facebook.com/WordsandPictures.by.LynneMarie
BUSINESS FACEBOOK: Children's Author Lynne Marie
https://www.facebook.com/LiterallyLynneMarie/
BOOK FACEBOOK PAGE: The Star in the Christmas Play
https://www.facebook.com/TheStarintheChristmasPlay
Yours in Words and Pictures,
LiterallyLynneMarie@Gmail.com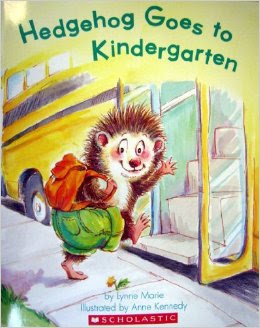 Hedgehog Goes to Kindergarten, Scholastic, 2011
Illustrated by Anne Kennedy
Hedgehog's 100th Day of School, Scholastic, 2017
Illustrated by Lorna Hussey
The Star in the Christmas Play, Beaming Books, 2018
Illustrated by Lorna Hussey
Moldilocks and the 3 Scares, Sterling, 2019
Illustrated by David Rodriguez Lorenzo
Let's Eat! Around the World, Beaming Books, 2019
Illustrated by Parwinder Singh
Children's Author Lynne Marie on FB